Yekaterina Goncharova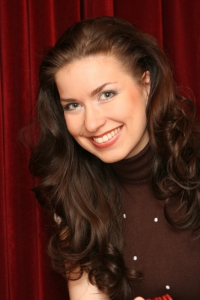 Yekaterina Goncharova, soprano
She was born in Novokuznetsk, and graduated from the Rimsky-Korsakov State Conservatory in St. Petersburg, where she studied with G. I. Kiselyova. During her study at the Conservatory, she became a winner of the "Three Centuries of Classical Romance" All-Russian Competition of Chamber Vocal Duos (2004), "Saint-Petersburg" All-Russian Competition of Opera Singers (2007), Yelena Obraztsova international competition for young opera singers (2007), and Montserrat Caballé International Singing Competition (Zaragoza, Spain, 2008).
Currently, Yekaterina Goncharova is a soloist of the Opera and Ballet Theater of the St. Petersburg Conservatory and postgraduate student of the St. Petersburg Conservatory studying with G. I. Kiselyova.
In October 2010, the young singer debuted on the stage of the Cologne Philharmonic in a concert with Montserrat Caballé. In November 2010, she sang the part of Tatiana (Eugene Onegin) in the production of the Opera de Monte-Carlo theater.
The singer's repertoire includes the parts of Mimi (La Bohème by Puccini), Tatiana (Eugene Onegin by Tchaikovsky), Iolanta (Iolanta by Tchaikovsky), Maria (Mazeppa by Tchaikovsky), Genoveva (Genoveva by Schumann), Micaela (Carmen by Bizet), Agnes (The Maid of Orleans by Tchaikovsky), Violetta (La Traviata by Verdi), and Marfa (The Tsar's Bride by Rimsky-Korsakov).