Anton Petriaev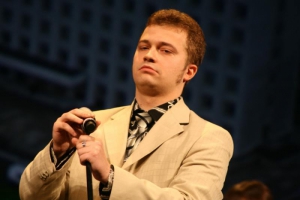 Anton Petriaev, baritone
He was born in Arkhangelsk in 1988. In 2006, he graduated from the Arkhangelsk College of Music with a diploma in piano, and in 2010, with a diploma in vocals. He studied at the Petrozavodsk State Conservatory as pianist and balalaika player.
In 2010, he entered the Vocal Department of the St. Petersburg Conservatory to study with Professor Sergey Ryazantsev. Currently, he is a second-year student.
Anton Petriaev worked as the chief choir master of St. Martin the Confessor's church in Arkhangelsk for many years, studying and performing Russian Orthodox music.
The singer's repertoire includes arias of Russian and international composers, romance songs of Russian composers, as well as pop songs by Pakhmutova, Babadjanian, Tariverdiev, Tukhmanov, Frenkel, etc.