Yuri Serov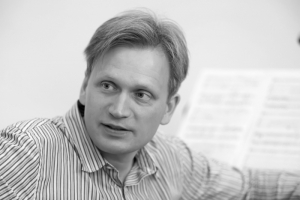 Yuri Serov, pianist and conductor
Graduated from the St Petersburg Rimsky-Korsakov Conservatory in 1991 and completed his postgraduate studies in 1993. He has studied in Salzburg and Weimar as well.
As a pianist and conductor has toured many cities of more than 25 countries. Yuri Serov has recorded over 60 CDs for a number of labels of Russia, Belgium, Japan and the USA as well as several large programs for TV and Radio in Russia, Norway, Denmark, Brazil and Belgium.
Yuri Serov is the author of many articles and essays on music. At present, he teaches chamber music at the St. Petersburg Conservatory. He is Artistic Director of the Northern Flowers international chamber music festival, founder and editor of the CD series St Petersburg Musical Archive.