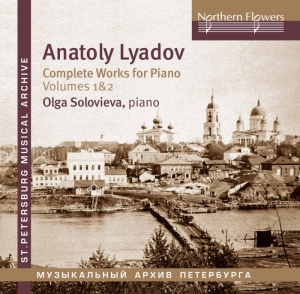 NF/PMA 99106/107
Anatoly Konstantinovich Lyadov (1855-1914)
Complete Works for Piano
Volume 1
Spillikins, the collection of 14 little pieces, Op.2 (1876)
1. Presto 0:51
2. Allegro 0:28
3. Allegretto 0:57
4. Allegro con fuoco 1:09
5. Vivace 0:46
6. Allegro 0:34
7. Moderato 0:50
8. Allegro moderato 0:56
9. Allegretto tranquillo 1:12
10. Allegro 0:52
11. Tempo di Valse 0:56
12. Prestissimo 0:39
13. Vivace 0:28
14. Presto 1:16
Six Morceaux, Op.3 (1876)
15. Prelude 1:19
16. Gigue 2:08
17. Fugue 2:24
18. Mazurka (Allegro) 2:26
19. Mazurka (Allegro energico) 2:05
20. Mazurka (Allegro non troppo) 1:14
Arabesques, Op.4 (1878)
21. Allegro con fuoco 1:26
22. Allegretto 3:46
23. Allegro grazioso 1:59
24. Vivace 3:10
25. Etude, Op.5 (1881) 2:55
26. Impromptu, Op.6 (1881) 1:27
Deux Intermezzi, Op.7 (1882)
27. Allegro Vivace 2:39
28. Allegro Energico 2:06
Deux Intermezzi, Op.8 (1883)
29. Allegro con fuoco 2:02
30. Allegretto 2:49
Deux Morceaux, Op.9 (1884)
31. Valse 1:29
32. Mazurka 2:27
Trois Morceaux, Op.10 (1885)
33. Prelude 1:31
34. Mazurka (Allegro moderato) 1:47
35. Mazurka (Allegretto con spirito) 2:15
Trois Morceaux, Op.11 (1886)
36. Prelude 2:47
37. Mazurka (in Dorian Mode) 2:03
38. Mazurka (Moderato) 2:30
Total Time: 64:41
Volume 2
1. Etude, Oð.12 (1886) 2:03
Quatre Preludes, Oð.13 (1887)
2. Allegro 2:03
3. Allegro Moderato 0:51
4. Andantino 1:49
5. Allegro con fuoco 1:13
Deux Mazurkas, Oð.15 (1887)
6. Allegretto 0:56
7. Allegro 0:54
Deux Bagatelles, Oð.17 (1887)
8. Suffering 1:28
9. Pastorale 1:43
10. Novellette, Oð.20 (1882-1889) 3:06
11. From the Bygone Days (Ballade), Oð.21 (1889) 5:19
12. In the Clearing (Sketch), Oð.23 (1890) 5:47
Deux Morceaux, Oð.24 (1890)
13. Prelude 2:18
14. Berceuse 4:36
15. Idylle, Oð.25 (1891) 5:59
16. Petite Valse, Oð.26 (1891) 1:59
Trois Preludes, Oð.27 (1891)
17. Allegro, ma gracioso 1:11
18. Presto 1:37
19. Allegro 1:21
20. Marionettes, Oð.29 (1892) 7:54
21. Bagatelle, Oð.30 (1889) 1:51
Deux Morceaux, Oð.31 (1893)
22. Mazurka Rustique 4:32
23. Prelude 2:21
24. The Music-box, Oð.32 (1893) 1:57
Trois Morceaux, Oð.33 (1889)
25. Prelude (Theme Russe) 1:00
26. Grotesque (Theme des Tcheremisses) 1:20
27. Pastorale 2:43
Trois Canons, Oð.34 (1894)
28. Allegro 0:31
29. Largo 1:35
30. Allegretto pastorale 1:30
Total Time: 73:49
First Volume recorded at the Moscow Theatre-Concert Centre's Concert Hall, December 29, 2005 & April 21–23, 2008
Second Volumerecorded at the Studio One of the Russian Radio House, Moscow,
May 30-June1, 2010.
Sound engineer and supervisor: Vadim Ivanov
Editor: Maria Lenarskaya
Production direction and co-ordination: Igor Prokhorov, The Boris Tchaikovsky Society
Anatoly Lyadov and his piano music
Anatoly Konstantinovich Lyadov was born in St. Petersburg ("somewhere in way of Okhta," as he himself indicated in an autobiographical note) on April 30, 1855, into a family of musicians. The founder of the dynasty was Anatoly's grandfather, conductor Nikolai Lyadov (1777-1839). Anatoly's father Konstantin Lyadov (1820-1871) was the chapel master of the orchestra of the Imperial Russian Opera, and a composer. His mother Ekaterina, nee Antipova, died when the boy was six years old. Anatoly was surrounded by music from his childhood. The abilities and social position of his father predetermined the lines of his education, and in 1870 he was admitted to the St. Petersburg Conservatory as a free student under a scholarship named after his father. At the Conservatory, Lyadov studied violin and piano for some time, and attended the practical composition class where he studied with N. A. Rimsky-Korsakov. For absence from school, Lyadov was expelled from the Conservatory for some time in 1876, although he was re-admitted soon. And it was in the year 1876 that the composer finished his first composition for piano titled Spillikins.
In May 1878, the artistic council of the Conservatory awarded a Free Artist Diploma to Lyadov, and the minor silver medal (to be handed after the examination in scientific subjects, which Lyadov never passed). In September of the same year, Lyadov was invited to the Conservatory as teacher of music theory. He pursued the teaching activity up to the last years of his life (among the most known of his students are Sergey Prokofiev, Nikolai Myaskovsky, Vladimir Scherbachov, Mikhail Gnessin, Boris Asafiev, and Nikolai Mal'ko; according to recently discovered documents, Sergey Rachmaninoff attended Lyadov's class of solfege and elementary theory).
His career as a conductor started simultaneously, although Lyadov did not often stand at the conductor's desk. From 1879, the composer was involved in the activity of the St. Petersburg Musical Circle of Amateurs as orchestra and choir conductor (a viola player in that circle was Mitrofan Belyaev, a patron of arts, impresario, and publisher, who was soon to become one of the closest persons to Lyadov). Lyadov's conducting continued in concerts of the Free School of Music, in the Popular Symphonic Concerts established by Anton Rubinstein in 1889, and in the Russian Symphonic Concerts established by Belyaev in 1885.
In 1884, Anatoly Konstantinovich married NadezhdaTolkachova, and the newly-weds settled in Apartment No. 10 of 52 Nikolayevskaya Street (currently Marata Street) in St. Petersburg, where Lyadov lived up to his last days. Soon, children were born into the family: Mikhail (1887) and Vladimir (1889). Both sons perished in the Leningrad Blockade in 1942.
By the late 1880s and early 1890s, Lyadov had won an important and honored position in the Russian musical world; he was respected not only by the Russian Five composers (to whom he was close) but also by their critics, and by other Russian musicians, such as Anton Rubinstein, Pyotr Tchaikovsky, and Sergey Taneyev. MitrofanBelyaev took a special place in Lyadov's life; their relationships were warm and friendly. Lyadov (together with N. A. Rimsky-Korsakov and A. K. Glazunov) was a major consultant in music to Belyaev. Belyaev provided great moral support to Anatoly Konstantinovich, and published his compositions. After Belyaev's death in 1903, the composer was granted a pension by the last will of the deceased, which became a material support to him.
By the end of the 1880s, the life of Lyadov had been formed in a quite definite pattern (with slight changes, it remained the same until his death). In winter, he taught at the Conservatory, sometimes conducted concerts, and only composed in his spare hours, which were not so many. In summer, Lyadov lived with his family in the Polynovka estate, Borovichi District, Novgorod Province. Among his favorite pastimes was reading books – not only fiction (Russian and international), but also scientific works in natural sciences, philosophy, letters, memoirs, and biographies.
In the summer of 1911, the composer began to feel unbearable pain; those were the first symptoms of his disease, myocarditis and vascular sclerosis, and kidney disease. A careful lifestyle was prescribed to Lyadov, and the composer became nearly a hermit in his apartment, visiting the Conservatory but very seldom. Twice he went to the spa of Kislovodsk for treatment. Great commotions that finally undermined Lyadov's health were the sudden death of his close friend Vladimir Avdeyev in January 1914 and seeing his eldest son Mikhail off to the fighting army in the summer of the same year. During his last days, the composer ate nothing and could not sleep; he suffered much from irregular heartbeat, but did not go to bed, and sat in the armchair all the time instead. Anatoly Konstantinovich passed away about seven o'clock in the evening, on August 15, 1914...
In the composer's musical heritage (67 numbered opuses and about two dozens of unnumbered ones), compositions for piano make about two thirds of the total number of works. Lyadov also wrote symphonic works and vocal music, and made arrangements of Russian folk songs. But still, the number of works written by Lyadov is smaller than with many other composers. The origin of such a low productivity was in Lyadov's attitude towards art – towards music.
It is absolutely true that he was not a lazy person (the legend of his laziness appeared during the composer's lifetime, and has been replicated since in multiple publications even to this day), and his everyday (for many years!) occupation as a professor at the Conservatory proves this. Earning his living by giving lessons, Lyadov declined any attempts of money support by his friend Mitrofan Belyaev who wished him to quit teaching and to concentrate on composing. But in order to compose, Lyadov was to be free of any money commitments! Lyadov wrote in a letter to Belyaev, "My dear, precious Mitrofan! I have a great request to you, old boy: be my real friend, and do something to prevent me and you talking about money – it's a terrible torture for me! Pay any amounts you like for my compositions, I agree to anything… One request more: please don't pay me more than you pay others..."
The real cause of the composer's low productivity was Lyadov's attitude towards the art of music. He himself left the following lines in his letters, "How can one not admire art, not adore it?... It was only art that awoke humans in beasts, and indicated to humans that there are "Spirit" and "Heaven;" "My ideal is to find the heavenly in art;" "The whole essence is in art, the whole essence is in the victory of "Spirit" over "Belly," the whole essence is in recognition of "Beauty" as the only queen of the whole world." The real friends of Lyadov knew about this attitude of his. For instance, Belyaev wrote to him, "Dear and best of my friends, Tolya! I highly appreciate you for your ideal opinions on art." According to Victor Walter, "art was for Lyadov the most sacred thing of all things existing… Beauty in general, and musical beauty in particular, was Lyadov's deity that rendered sense, and the only sense too, to all his life... Lyadov could only create when he felt an inner impulse."
If you study the music of Lyadov carefully, you will understand the scrupulosity, preciseness, and attention to every detail and every note, with which they were created. Strict neatness of workmanship can be seen in each opus of Lyadov. JāzepsVītolscompared Lyadov's works to exquisite articles of ivory. Lyadov wrote about himself in a letter, "This is my "karakter" – to do everything so that each bar makes you rejoice." Of course, with such attitude of Lyadov towards music and the process of composing requiring much time to create a finished opus, the number of works written by the composer is not too large.
It should be noted that almost all of Lyadov's works have dedications – to his teachers and colleagues, to close friends and relatives. The composer confessed, "Now I imagined, what if those whom I love or who love me die? Well, what for should I compose then?"
The First and Second Volumes of the Complete Piano Compositions of Lyadov included compositions written from his student days at the Conservatory and up to the early 1890s. It was that period that became the time of artistic quest for inspiration for the composer, the time of development of his own style.
Lyadov's earlier pieces (including Two Intermezzos, op.8) show a great influence of Schumann. Spillikins (op.2) are 14 miniature pieces having only the tempo indications. Of other pieces of the early period, remarkable is Etude (op.5). It is a brilliant exercise with a very bright and powerful culmination, comparable to openwork lace. Interesting are the four Intermezzos (op.7 and op.8) dedicated to V. V. Stasov. Their romantic nature shows itself in the spirited attitude of the music.
Starting from the pieces of op.9 (and up to op.17), Lyadov was definitely moving to Chopin's "camp." Alongside of compositions colored with the inimitable "Lyadovian" nature, evident imitations of Chopin can be met. In that period, Lyadov wrote many mazurkas, and it is mazurkas that are mostly associated with the name of the Polish composer. But of course, Lyadov's music always has its peculiar features. The charming (but without any embellishments!) elegiac Prelude, op.11 No. 1 is of a definitely Russian nature!
In a later period, Lyadov reverted to Chopinian forms (most often to preludes and mazurkas), and parallels to Schumann's music can also be heard in some compositions (for instance, in The Novelty). However, starting from Two Bagatelles, op.17 (1887), a turning point can be seen in the composer's creativity. Lyadov wrote to his sister Valentina in 1888, "With every year I am getting more and more at a loss – how to compose and what to compose? Today, Chopin moved terribly far away from me, and I cannot say for sure whether this is good or bad... I began to compose like Serov or Mussorgsky..."
Despite his doubts, Lyadov clearly felt a surge of creative energy, judging by the great number of compositions written from 1889 till the late 1890s. The signs of the turning point in his creativity were, firstly, that a certain program began to appear in his music (the piece titles like The Torment or The Pastoral speak for themselves). Secondly, national traits became evident in Lyadov's music (however not in apparent emphasis on certain known idioms or techniques, but in his own "Lyadovian" style). In this sense, The Novelty, îð.20 (dedicated to V. V. Stasov) was the first one. Its continuation is the ballad On the Days of Old, îð.21 (dedicated to Anton Rubinstein) based on the Russian folk song Blow, O Blow, Sweet Inclement Weather from Balakirev's collection. The piece starts in something resembling a strummed psaltery, and narrates about the ancient Russian history by the whole flow of its melody and by all of its time-rhythm variations. It is the most Russian one of all of the national pages in Lyadov's heritage. The pieces On the Lawn, îð.23, and Idyll, op.25 belong to the same line of images of a narrative and epic nature.
Of that period of the composer's creative activity, one piece, A Musical Snuffbox, op.32 (dedicated to son Mikhail), won the worldwide recognition quite soon, and entered the repertoire of very many famous pianists. By the affinity of ideas, close to the Snuffbox is the piece The Marionettes (The Puppets), op.29. Lyadov's fantasy in inventing jokes was inexhaustible; similarly, he liked amusing comparisons and paradoxes in his conversations. There are several versions of genesis of these two musical jokes written in a spinning waltz rhythm and creating an illusion of movement of mechanical toys. According to one of them, their origin is attributable to Belyaev's temporary fancy for moving mechanical figures with music that were demonstrated during the famous "Friday" parties. Afterwards, Belyaev used to give these figures as presents, and once he sent Lyadov a box with an operating mechanism. According to other accounts, Lyadov conceived the ideas of the Snuffbox and Marionettes after visiting the Fantoche Theater in Marsovo Field.
The second volume of Lyadov's piano pieces ends in Opuses 33 and 34. Of the Three Pieces, op.33, The Pastoral alone was published during the composer's lifetime, and the rest were published in 1914. The Grotesque is written on a Cheremis theme (Cheremis is the old Russian name of the Mari ethnos) taken from the collection of Nikolai Abramychev, a friend of Lyadov. The piece consists of miniature variations on a two-bar theme, again displaying typical Lyadovian humor.
Three Canons, îð.34, are not just exercises in polyphony. According to Rimsky-Korsakov, Lyadov as a Conservatory student in the class of Professor Johansen "brilliantly mastered harmony, counterpoint, and fugue;" polyphony was for Lyadov an integral part of the art of composing; he regarded polyphony as an expression of the intellectual element in music. The polyphonic genres, being based on the exclusive role of the melodic and melodic/polyphonic element, have much in common with the Russian folklore traditions; for example, the Russian origins of the music can be especially clearly heard in Canon No.3
This synopsis uses materials from the book An. K. Lyadov (Petrograd, 1916)
and information published in the book An Unknown Lyadov (Chelyabinsk, 2009)